CUSTOMER COMMENTS


"G´day Lisa,

I received my flutes yesterday... and I just LOOOOOVE them!
Thanx for a beautiful craftsmanship and may you walk in beauty my friend."
Yours,
Gandalf

~~ Gandalf Alvstige
Sweden

"... I play it almost every time I play. I have a wonderful story I tell and use it as an example of the highest smallest flute I have. People are always amazed at the beautiful bird like sounds and quality of the little flute.
love,
John "

~~ John De Boer
USA -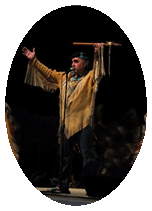 "Lisa, The flute arrived today. I love it!..It is even tinier than I imagined. It's going to be great at drum circles. The high voice can be heard."

~~ Gary Kendrick
USA



"Today I received your Micro flute. Been having fun discovering all the things you can do with it. Did you know you can cover the front of the flute as a fourth hole? I can get a few more notes in the lower and upper octave with various cross fingerings using all "four" holes."

~~ Frankie Sierra
California, USA

"I got back into town today and the miniature flute arrived in todays mail. It's marvelous!!! The
high-keyed sound is a delightful variation from my other flutes and the fact that I can actually play this little flute completely fascinates me."

~~ Jim Reed
Ohio, USA



We have been given the spirit of:

Love, Power, and
Sound Mind

Be Not Afraid, for the spirit of fear was not given to you, it is a choice.

LISTEN TO THE FLUTES

Dial Up Internet is slow.
Sound Files are big.
Wait time can be long.
Relax.
HAPPY BOYS
Rael and Sunny
Pictured With Their New Companions - Miniature Flutes
Both the little guys are going around with them like this all day. They don't put them down... Thanks for bringing more music into our lives.
~~~ Sarah Timmons
Queensland, Australia
Concert Quality ~ A440 Tuned
Your flute will be tuned using an electronic tuner to ensure that it has concert quality pitch. This will enable you to play along with other instruments.
PIXIES PLAYING IN PARADISE
Sunny and Rube (Brothers)
Miniature Flute and Big Flute Play Together
Flute Sound Files ~ Not Electronically Altered
Our flute sound files DO NOT have any effects added to them. Our flutes sound exactly like this naturally (Clear, Crisp, Loud, Non-breathy, & No air hiss). Your flute will sound this way for you when you play it at home. Your flute will produce a rich, clean quality sound and have tremendous volume, without the use of a microphone.

FLUTE SIZES - 4.5" - 5.5" Long



COMPARE SIZE


"...this little baby is fun to play. You can half hole all three holes and/or cover half of the far end and bring the tone down considerably. Played this on the phone for Billy Whitefox Wednesday night and ordered one for him as a gift yesterday. I'll be getting together with him in a couple of weeks in Orlando. Oh, and I ordered another for me in Kingwood... There will be a quartet of these little babies at Musical echoes: Rae, Sharon,myself and Billy Whitefox. I will gift him that flute next Saturday when I see him."

~~ Len Kaminsky
Owner of the flute in the picture
Florida, USA

CHOOSE YOUR FAVORITE WOOD
FLUTES IN THE PICTURE
LEFT TO RIGHT
Osage Orange, Curly Ash, Eastern Cedar

The Joy of Wood Shopping
" I have a blast when we go wood shopping. I'm like a kid in a candy store. Soooooo... many beautifully grained pieces of wood to choose from. We always come away with much more wood that we went to buy. Some pieces of wood, I "just can't resist". They just beg to be made into a flute." I just "love" to go wood shopping." ~~ Lisa Fretwell

Most of our hardwoods and exotics we purchase from a speciality store about an hour away from our home. We hand pick each piece. We look for unique and beautiful grain patterns as well as exceptional color. We purchase our Eastern Cedar wood from a local young man. He cuts and mills the cedar from here in the Ozarks. Some of our rare and exotic woods, we purchase from other sources around the country. Koa and Curly Koa we purchase directly from Hawaii.
Availability of Unique Woods
Most wood will make a wonderful flute. Email or call us (417-535-6032) about the availability of woods not shown on our website such as: Koa, Curly Koa, Honey Mesquite, Black Mesquite, Quina, Wenge, Spanish Cedar, Redwood, Sapele, Quilted Sapele, Rose woods, & Quatersawn woods.

Pieces of Wood Special to You
If you have a piece of wood that's special to you, send it to us and we will make your flute from that piece.

Some of our customers go to their local wood store and choose their own piece of wood. Wood grain and color are unique to each board that is cut. Each piece of wood has it's own unique spirit. When you can see and touch the piece of wood, the spirit of the wood can talk to you.
Three Commonly Asked Questions



Q: What do you use to seal the wood?
A: Over a period of several days, we apply several thin coats of non-toxic, humanly edible shellac to the outside of your flute. (It's the same shellac that is used in the food industry when making licorice candy.) After the shellac has set completely. We give your flute a mineral oil bath and we place it in the drying rack for a couple of days to dry. Clear shellac lets the natural grain pattern and color of the wood stand out. Your flute will have a soft shine.
Q: Is a miniature flute a good choice for a child?
A: Yes. They are easy to play. However, they are made exactly like the standard size flutes and require some supervised care. The leather straps holding the block in place must be loosened and the block must be removed periodically and the saliva in the flue wiped dry.
Q: Is a miniature flute a good choice for an adult?
A: Yes. One thing to consider is the size of your fingers. The finger holes on a miniature flute are close together. If you have large hands, you will want to order the key of A. It's the largest miniature flute.
Q: Do you offer "special order" mini's?
A: Yes. Email us with your request.

SPECIAL ORDER MINI's

ADDED FINGER HOLES
4 finger holes on the front and 2 thumb holes on the back


BLOCK INLAY
Osage Orange Flute With Kingwood Inlay Block
Dressed With Hand Made Matching Kingwood Bead, 2 Yellow Beads, And Peacock Feathers



.